Thursday, October 21, 2010 at 7:47PM
Hey there, folks, and welcome to Seven Days of Shyamalan, a look back on the filmography of one of the strangest downturns in the history of film. Today's entry is actually the Prologue, where we'll be looking at a film that, while it predates The Sixth Sense, doesn't really fit the usual tropes associated with the releases that would follow.

That film is 1998's Wide Awake, written and directed by none other than M. Night Shyamalan.

I should note that he actually directed one film before this, titled Praying With Anger, but it wasn't a major release, and it's pretty much impossible to find on DVD. It's really a shame, too, because in addition to being the movie's writer and director, M. Night also starred in the story of an American man with Indian ancestory going back to his family's homeland and discovering his spirituality. You can tell by watching this short segment that the source material likely meant a lot to Shyamalan, and I hope to track it down one day.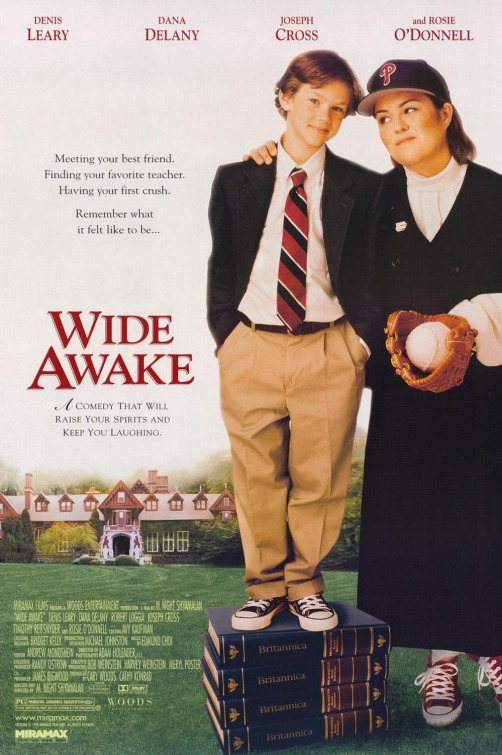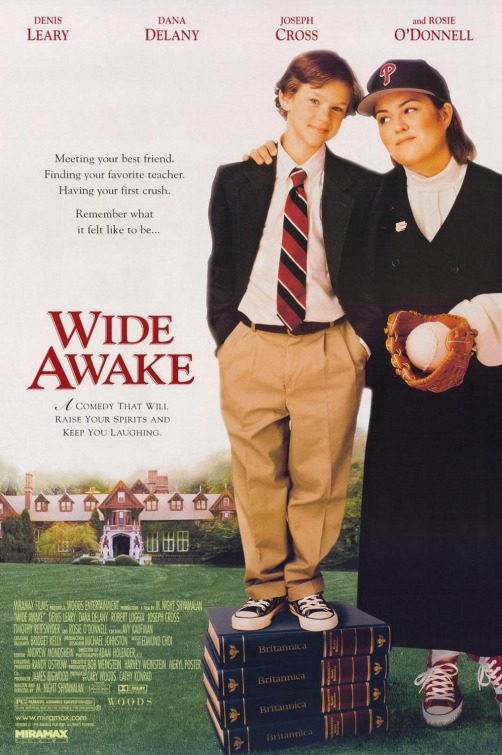 Having said that, le
t's get to Wide Awake.

The movie tells the tale of Joshua Beal, a fifth-grader in a Philadelphia suburb who's recently lost his grandfather. Finding himself grief-stricken, and hoping to find out what actually happens when someone dies, he embarks on a year-long "mission" to find God and ask him if his grandfather is being taken care of.

The "mission" itself ultimately ends up ranging from speaking to the priest at his all-boys Catholic school to learning about and practicing a plethora of other religions from around the world to simply praying for any sort of sign that God actually exists. Frequently disheartened with his lack of results, there's a surprising amount of agnosticism to be found, usually in Joshua's best friend, David, who eloquently says, "Is there a God? I drink chocolate milk through my nose. What do you I know?"

Mostly due to the light, orchestral score, you can never really escape that "90s Kid Movie" feel, which is a shame, because there are some genuinely touching and heartfelt moments to be found, especially between Joshua and his grandfather in various flashbacks scattered throughout the film. Needless to say, this is not a movie you'd ever suspect M. Night Shyamalan to be behind.

And yet, he wrote it and directed it. It's hard to deny that this was probably his vision. I suppose there is a little bit of Joshua's precosiousness and soft nature that was brought into The Sixth Sense's Cole, but that's a tenuous link at best. I suppose the best compliment I can give this movie is that it handles a child's crisis of faith subtlely enough to not be heavy-handed. Wide Awake is a thoroughly light-hearted movie, from David's antics in driving the nuns at school insane to Joshua's doughy classmate Frank, who constantly thinks "today" is "tomorrow."


So is Wide Awake a good movie? It's a very competent children's movie that explores some mature themes, but it hardly ever elevates itself to being genuinely great. Joshua's actor, Joseph Cross, is adorable and charming in his own way, and there are a few funny casting choices (Joshua's father is played by Dennis Leary, and two of his teachers are played by Rosie O'Donnel and Camyrn Manheim), but it's hardly a classic, and you're not missing anything by skipping over it. I can't even really recommend it to die-hards, since it doesn't have anything close to the same tone to Shyaman's later works.

Oddly enough, Wide Awake was actually filmed in 1995, even though it wasn't released until 1998, and after watching the movie, I can understand why it was shelved. The fact that it only took in a little over a quarter of a million dollars (on a six-million dollar budget, no less) proves the fact that this movie has no audience. The crisis of faith moments are too heady for children, but still too simple for adults.

So that's Wide Awake. Come back tomorrow for Day 1, where I'll be going to town on 1999's The Sixth Sense.
tagged
seven days of shyamalan